Stockings for bathroom
Stocking the bathroom for the denture wearer:
for one who has his foot in plaster;
for one who has an open wound is bandaged;
for one who has a cannula or catheter-hand.

BATH SAFETY HANDLE

BATHROOM HANDLES

(Română) Proteza de gamba modulara cu diferite tipuri de picioare protetice din carbon
(Română) Linere din silicon, poliuretan, copolimer
Bionic Arm prosthesis
Sorry, this entry is only available in Română.
Proteza de gamba modulara – liner silicon – prindere distala automata pentru persoanele cu diabet zaharat
Proteza de gamba modulara cu liner din silicon prindere distala automata 
cupa solutie acrlica 
manson de silicon pentru protectie si suspensie
ancora rapida  
componente modulare pentru reglaj
picior protetic mobil sau fix
articulatie picior mobil sau fix 
cosmetica buret poliuretanic 
ciorap cosmetic 
Acest produs este  oferit de CAS pentru persoana diabetica !
ROSAL ORTOPEDIC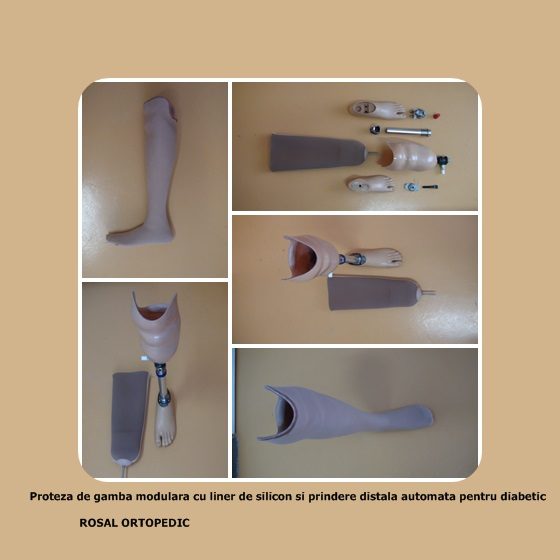 Proteza de gamba modulara cu vacuum electronic !
Proteza de gamba modulara cu vacuum electronic 
Cupa bicomponenta din carbon si termolin flexbil 
Vacuumul electronic Limblogic salveaza setarile prin bluethoot
Purtatorul poate seta din telecomanda nivelul presiuni din cupa protezei in diferite trepte 
Regleaza instant aerul din cupa protezei mai strans sau mai lejer in functie de doleanta acestuia 
Purtatorul acestui sistem poate presta diferite activitati cum ar fii ciclism volei fotbal si cel mai important este :
Poate face scufundari la o adnacime de maxim 3 m in bazine,piscine, lacurii cu apa dulce exclus apa sarata 
Acest sistem revolutionar poate fii folosit pana la 12h/zi
Beneficiile acestui sistem  sunt o propriocetie excelenta imbunatatind permanent fluxul sanguin prin reglajul pompei de vid care se face automat.
Piciorul din carbon cu restitutie de energie completeaza performanta acestei proteze.
Elemetele de structura usoare din carbon ascociat cu titan usureaza proteza oferind incredere deplina pacientului .

Proteza de brat mioelectrica !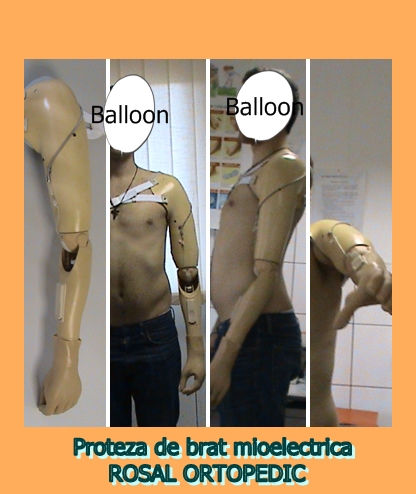 are in componenta mana digitala care inchide
si deschide prin impulsul dat de muschi senzoriilor
electrici
articulatie cot din rasina acrilica cu miscare mecanica
si unda de leviatatie cu posibilitatea regajului acesteia
cupa de insertie a bontului de amputatie bicomponenta
din termolin flexibil si solutie acrilica carbon
ham de tractiune humeral

Proteza de gamba modulara ,,Unity Sistem Vacuum"
vid produs prin actionarea mecanica a lamelei de carbon

a piciorului protetic unde este si plasata supapa de evacuare a aerului

din cupa protezei.Tehnologia de varf a linerului silicon iceross seal

in WTT o noua cucerire a stiintei,creeaza o suspensie puternica,

purtatorul simte o siguranta maxima si un confort sporit

vis-a-vis de orice alt sistem nefiind nevoi

e de incarcator de priza

asa cum se gasesec la alte sisteme de vacuum electronice

.Cupa de carbon este completata de cupa interna din termolyn flexibil

antimicrobiala usor de ingrijit.

Piciorul de carbon cu un design futurist dar si cu o performanta ridicata

in exploatare completeaza perfect nevoile purtatorului 

care iubeste libertatea, viata si nu precupeteste o clipa

sa-si desfasoare activitatile zilnice

 

 

 

Proteza de coapsa modulara cu vacuum electronic tip Harmony
Proteza modulara de coapsa cu vacuum electronic provizorie de proba Tip Harmony
picior protetic carbon cu incarcare si restitutie de energie
tub modular titan
articulatie de genunchi hidraulic
vacuum electronic tip harmony
cupa provizorie transparenta de proba
supapa automata pentru expulzia aerului
ciorap silicon cu membrana multipla